Book Club
Join us on the 2nd Tuesday of every month when we meet to discuss the current book and pick up the next month's title. We reserve copies that you can get at the library.
Check out the Book Club Reading List for 2023.
We will be discussing Other Birds by Sarah Addison Allen on Tuesday, December 12th at 7 pm in the library's Hartley Room.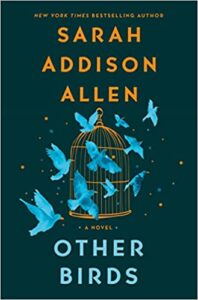 Cookbook Club 
Do you love trying new recipes and sharing dishes? Do you love browsing cookbooks and eating food with your friends? Then the Cookbook Book Club is for you. We pick the monthly theme and then we reserve copies of cookbooks with that theme that you can pick up at the library. You choose and make the recipe of your choice and then we gather on the third Wednesday of the month at 7:00 pm to share our dishes. Please bring a copy of your recipe.
Check out the Cookbook Club List for 2023.
Join us on Wednesday, December 20th at 7:00 pm when the theme will be COOKIES!